Welcome to the Cannabis Investing Newsletter Forum. Feel free to find your favorite cannabis stocks and contribute content as you please; content that continues the discussion of and analysis of cannabis stocks. – D. H. Taylor
Sleeper pick?
Topic starter
22/10/2021 9:32 am
I have been bugging DH for a few weeks about Ayurcann and to shut me up I think he added the company to this forum. hahaahhaha In all seriousness, the more I learn about them, the more I like what I see. Still not enough for DH to work with to do an honest video on Ayurcann but I look forward to the day he does one.
Here is some info about this young company.
Their "About Me": https://ayurcann.com/about-us/
The claims: They are debt free. A positive EBITDA. And profitable. 
What I find interesting, the comparison chart below, which is about two months old. Two of the three, Valens, and Neptune, aren't doing so well. I know nothing of Medipharm Labs. It seems Ayurcann is nibbling away at their competition.
Hopefully, you seasoned investors will look into them and let me know what you think?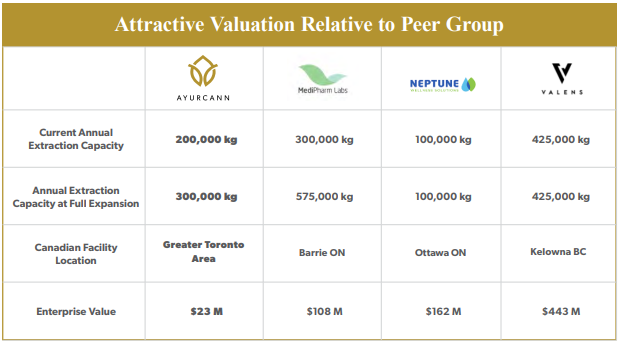 I just have a list of things to do that is about 5 miles long.  Once I see someone is pretty serious about something I'll break stride and check a box.